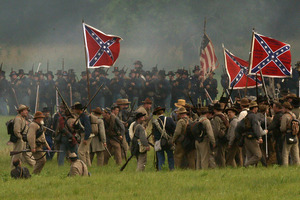 In a field of tall grass, shots ring out and puffs of smoke rise as soldiers re-enact the Battle of Gettysburg and America begins to mark the 150th anniversary of the turning part in the US Civil War.
About 200,000 history buffs are expected to trek to this corner of Pennsylvania over the next 10 days to relive what happened here between July 1 and July 3, 1863. The deadliest battle on US soil, with nearly 8000 dead and tens of thousands injured, delivered a fatal blow to the Confederates. It also marked the start of the southern army's retreat, although the war would take another two years to end.
"Let's draw sabres again," called out a Union cavalryman clad in blue - the colour of the North - his flag flapping proudly in the wind.
Wearing a grey cap - the colour of the South - John Baldwin called the re-enactment "fantastic".
The 61-year-old said he came here in the name of his ancestors, who were Confederates from North Carolina.
"When you read the books, you don't see the distance and how far away the soldiers are, how large the battlefield is," he said.
About 25,000 "re-enactors" are on scene, fully decked out in period garb. They personify those present at the historic event all those years ago - General George Meade for the North and General Robert E. Lee for the South, as well as civilians and soldiers galore.
James Taub is playing the role of an infantry soldier.
"It's like getting reconnected to the past," said the 20-year-old history student from Michigan.
Nearby, women in hoop dresses twirl lace parasols on their shoulders as they stroll among an encampment consisting of large white tents.
Historian Brian Jordan pointed out the limits of re-enactments as a historical tool.
"In that search for finding the right uniform and the right gun, and re-enacting the best emotions of the war, they can escape that fundamental reality that it's about slavery."
- AFP