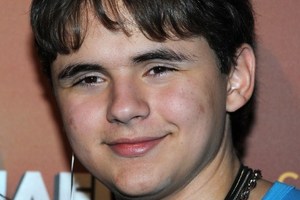 Michael Jackson said that tour promoters AEG Live were going to "kill" him as he rehearsed for a marathon concert tour shortly before his death, his son Prince testified Wednesday.
The 16-year-old also recounted the harrowing scenes on the day Jackson died in 2009, recalling how his younger sister Paris was "screaming" as doctor Conrad Murray was trying to revive her father.
"He just wished he had more time for rehearsals," he told the wrongful death trial, in which the Jackson family accuses AEG Live of negligently hiring Murray to care for the star for his doomed This Is It shows.
The teenager said Jackson was upset on the phone "a lot of time," most of the time with AEG Live chief Randy Phillips.
"He would cry sometimes. He said: 'They're gonna kill me, they're gonna kill me'.". Asked who he was talking about, he said: "People in AEG, Randy Phillips."
Jackson, the most high-profile witness to testify since the civil trial started in late April, recalled June 25, 2009, the day his father died of an overdose of anesthetic propofol, given by Murray to help with chronic insomnia.
"I was downstairs in the sitting room. I heard screaming upstairs. I saw Dr Conrad, (personal chef) Kai (Chase) looked nervous and said 'Dr Murray wants you upstairs.'
"I ran upstairs and I saw Dr Murray doing CPR on my dad. Dr Murray was screaming while doing CPR. Then my sister came upstairs. She was screaming all the time saying she wants her dad," he added.
Appearing to fight back tears, he recalled how the children followed the ambulance which took Jackson to hospital, in a separate car.
"My dad always told us that angels were looking after him.
At the hospital, "Dr Murray said 'Sorry kids, dad is dead.' We just cried," he told the jury.
- AFP