Hunt for killers follows deaths of foreign mountaineers near foot of tall peaks.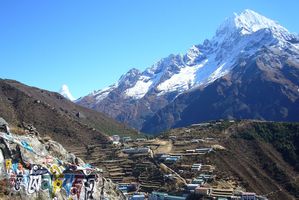 Gunmen dressed as paramilitary police killed nine foreign tourists in an unprecedented attack in the Himalayas of northern Pakistan, in a security failure bound to embarrass the new Government just weeks after it took office.
The gunmen stormed into a base camp, killing Chinese and Ukrainian climbers in an area of the far-flung north not previously associated with violence or Islamist militancy.
The killings will jeopardise one of the few foreign tourism draws that remain in Pakistan - mountaineering - as few international tourists still visit a country troubled by al-Qaeda and Taleban violence.
Officials said five Ukrainians and a number of Chinese were killed. One Pakistani also died and one Chinese survivor has been recovered, the Government said.
The climbers were staying at a first camp, around 1280m, for Nanga Parbat, one of the highest mountains in the world, in the Diamer district of Gilgit-Baltistan.
"There were nine foreigners and one Pakistani. They were mountaineers," Diamer police official Mohammed Naveed said. "Gunmen came and opened fire on them. It is confirmed that they have been killed."
Five Ukrainians were among the dead, Ukraine's Ambassador to Pakistan Vladimir Lakomov said. Interior Minister Chaudhry Nisar told Parliament one Chinese survivor had been rescued.
The Himalayas in northern Pakistan offer some of the most spectacular climbing in the world. Its peaks are a magnet for experienced mountaineers, often from Europe.
It was not immediately clear who was responsible.
While Gilgit-Baltistan has seen deadly sectarian violence targeting Pakistan's Shia Muslim minority, foreigners have never before been targeted in such a remote part of the region, which officials said was inaccessible by road.
Helicopters were dispatched to recover the bodies and police and paramilitary units have been ordered into the area.
Nisar told Parliament that the attackers were dressed as Gilgit Scouts, a paramilitary police unit, and accessed the camp with the help of two guides whom they kidnapped.
"They abducted two guides and through them reached the area. One guide was killed in the shootout. One is alive. He is now detained and being questioned," he said.
Pakistan condemned the attack, but the killings raise serious questions about security failures and embarrass a country already suffering from a poor image. The Interior Minister conceded there was no police or security escort for foreigners up in that area of the mountains. The top bureaucrat and top police official in Gilgit-Baltistan were suspended, state TV said.
"The Prime Minister of Pakistan has condemned these inhuman and cruel acts, ordered to conduct thorough investigation, and apprehend the culprits," the Government said.
- AFP