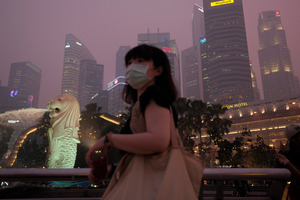 Indonesia yesterday deployed helicopters to artificially create rain in a bid to fight raging fires that have choked Singapore with smog, which is hitting record-breaking levels that pose a threat to the elderly and the ill.
At an emergency meeting, President Susilo Bambang Yudhoyono ordered disaster officials to "immediately mobilise all the country's resources" to extinguish the fires on Sumatra island that have created vast palls of smoke.
Singapore's worst environmental crisis in more than a decade has seen the acrid smoke creep into people's flats and cloak residential blocks as well as downtown skyscrapers, and the island's Prime Minister has warned it could last weeks.
Indonesia's national disaster agency said two helicopters with cloud-seeding equipment were sent yesterday from Jakarta and Borneo island to Riau province, where hundreds of hectares of carbon-rich peatland are ablaze.
"Hopefully, we will be able to create artificial rain today," said agency spokesman Sutopo Purwo Nugroho.
He also said water-bombing helicopters could be dispatched, although gave no timeframe. Firefighters on the ground have struggled to put out the blazes, which are burning under the surface of the peat.
As Indonesia stepped up its fire-fighting efforts, Singapore's smog index hit the critical 400 level, making it potentially life-threatening to the ill and elderly, according to a government monitoring site.
The all-time record level was reached yesterday after a rapid rise in the Pollutant Standards Index (PSI). It fell back to 360 in the afternoon.
According to Singapore government guidelines, sustained PSI average levels above 400 on a 24-hour basis "may be life-threatening to ill and elderly persons".
Before the latest crisis which erupted on Monday, the previous Singapore air pollutant index high was 226, recorded in September 1997.
That episode cost the Southeast Asian region billions of dollars and also resulted from vast amounts of haze from Indonesia, where slash-and-burn farming generates heavy smoke during the dry season that begins in June.
Parts of Malaysia close to Singapore have also been severely affected by the smog this week.
- AFP