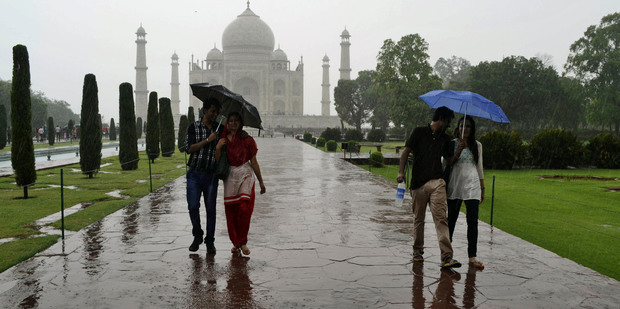 Indian tourists use umbrellas to keep from rain in front of the Taj Mahal in Agra, India. Photo / AP
At least 13 people have died in the northern Indian hill state of Uttarakhand as the annual monsoon rains spread rapidly across the country a fortnight ahead of schedule.
There were heavy downpours across vast swathes of northern and western India with Uttarakhand and Haryana among the worst-hit states, NDTV news channel reported on Monday.
Rain caused house collapses, floods and landslides in Uttarakhand, killing at least 13 people. Over 50 have been reported missing.
At least 30,000 pilgrims were reported stranded in the Kedarnath valley, which has several Hindu pilgrimage spots, as roads and bridges were washed away.
All government schools in the Uttarakhand capital Dehradun have been closed as a precaution and the state administration has been put on alert, said Yashpal Arya, Uttarakhand disaster management and rehabilitation minister.
In Haryana, Indian Air Force helicopters were being used to rescue residents of 15 villages marooned by floods, IANS news agency reported.
Heavy rains disrupted life in financial hub Mumbai for the third day on Monday.
Almost every year, monsoon-driven floods cause widespread destruction. The monsoon season in India lasts from June to October.
-AAP