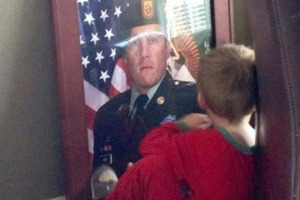 Traci Wise took a picture of her son Luke next to a photograph of his father Benjamin Wise who was killed in Afghanistan.
The widow of an American soldier killed in Afghanistan, Army Special Forces medic Benjamin Wise, has posted on Facebook a private photograph of her son curled up next to a picture of his father.
Traci Wise snapped the photo of Luke last year. "Found my son sitting having a moment with his daddy the other day," she wrote on Facebook. "We lost him January 15 in Afghanistan ... we cannot forget about the incredible loss these children must undertake."
The photo has gone viral on social media sites.
"This is so touching yet so tragic," one user said on tumblr.
"I'm not usually too choked up on reddit but this really hit me hard," said a post on Reddit.
"Knowing soldiers are killed every day and leave children behind is heartbreaking," another person wrote. Wise, 34, was critically injured on January 9, 2012, during an attack by insurgents in Balkh Province.
He died from his injuries on January 15, 2012. He left behind his wife, Traci, sons Luke and Ryan and daughter Kailen.