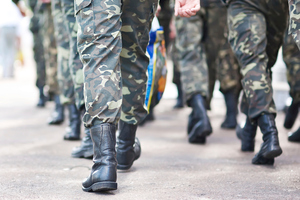 The Australian Army is investigating allegations that material demeaning women was produced by some of its officers, Chief of Army Lieutenant General David Morrison says.
Morrison says the allegations involve the production and distribution of "highly inappropriate" material across both defence computer systems and the public internet over the last three years.
"I'm appalled at this situation," he said in Canberra last night. "I view the allegations that are being made in the gravest light."
He said three army personnel had been suspended from duty already.
The trio may also be persons of interest to the New South Wales police and there is a possibility of civil charges.
Another 14 army officers and non-commissioned officers appear to have engaged in a series of actions that "strike at the heart of the army's ethos and its contract with the nation".
A further 90 or so other Australian Defence Force personnel may have been on the periphery of these exchanges, Morrison said.
He said more than five women are involved, including ADF members, public servants and the public.
- AAP