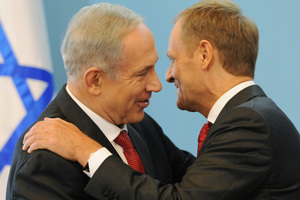 From a room-length index of Holocaust victims to stick figures sketched on the walls, powerful visuals mark an Israeli exhibition opening Thursday at the site of Auschwitz-Birkenau, the Nazi German death camp in southern Poland.
The striking permanent display, which will be unveiled at a ceremony attended by Israeli Prime Minister Benjamin Netanyahu, was curated by Israel's Yad Vashem Holocaust institute.
Funded in part by Israel, it is one of several national exhibitions located at the former Nazi camp, now a memorial and museum run by Poland.
Israel's original display dated back to the communist era, but after a 2005 visit by former Israeli prime minister Ariel Sharon, the Jewish state decided it needed an update.
Located in Block 27, one of the red brick buildings that held the camp's prisoners, the new "Shoah" or Holocaust exhibition has a black-and-white colour scheme and a minimalist approach.
Choosing multimedia over text, it places what happened in Auschwitz from 1940-1945 - where around 1.1 million people died at the hands of Nazi Germany - into the larger context of the Holocaust.
"Visitors to the exhibition will be able to learn that Auschwitz wasn't an isolated island," museum spokesman Pawel Sawicki told AFP.
"It was part of a massive programme organised by Nazi Germany in occupied Europe with the main goal of murdering all Jews."
Nazi Germany's World War II genocidal "Final Solution" claimed the lives of six million of pre-war Europe's 11 million Jews.
The gallery contents range from a 360-degree cinematic montage of Jewish life before the Holocaust to the room-length Book of Names listing details of about 4.2 million Holocaust victims.
In one dark, loud room, screens hanging from the ceiling project footage from Nazi Germany, including Adolf Hitler gesticulating madly while delivering a speech, as speakers blast Nazi chants.
From there, the atmosphere changes drastically as the visitor transitions from the central tenets of Nazi German racist ideology to a room conveying the consequences of that anti-Semitism.
"As you can see, we left the room with a lot of noise and we entered into total silence. And this was done on purpose," Yad Vashem director and exhibition curator Avner Shalev told reporters.
The white room displays an enlarged map of Europe entitled the "Geography of Murder" showing all the extermination camps and killing sites where Jews were silenced.
Next to the black-and-white map are screens projecting photos of piles of bodies and skeletal, starving prisoners for a powerful display of how the systematic murder was carried out.
Shalev says the images are not there to shock.
"It motivates you to think and rethink what does it mean.... It gives you a push to think deeper. To maybe take some personal responsibility about your life," he told AFP.
A highlight of the exhibition, one Shalev calls the "heaviest part", is a room devoted to the 1.5 million Jewish children killed in the Holocaust.
It is empty save for small pencil drawings sketched directly onto the white walls at a child's eye-level.
Israeli artist Michal Rovner sorted through 6,000 drawings by children who died in the Holocaust and selected fragments to copy onto the walls, without "correcting or improving them".
The drawings - which include houses, trains, soldiers, hangings, flowers - are not framed or behind glass but "brought back to the present time".
"I wanted to give them a presence in this space as if a child was just here and made those drawings on the walls," Rovner told AFP, with historical recordings of children streaming in the background.
"My desire was to give them presence again, in the place that really tried to erase them from the world. To bring them to this place again," she said.
The exhibition ends with a computer lab for educators, where students will be able to reflect on the Holocaust.
In a series of recordings, historians, philosophers and rabbis offer their takes on difficult questions including "Where was God during the Shoah?"
- AFP