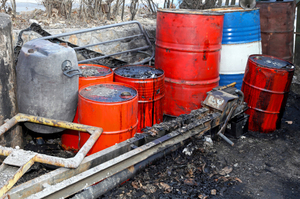 Alcohol that killed three young men in Queensland was being brewed to make biodiesel, a friend and neighbour says.
Only one of the four men who drank the substance on a property in southern Queensland on the weekend remains alive.
The third victim, Vincent Summers, 21, died on Tuesday night.
Joel Lynam, 21, died on Sunday from suspected methanol poisoning. His mate Bryan Wilmot, 30, followed on Monday.
Lynam's older brother, Josh, 26, remains in hospital in a serious condition.
A neighbour has said the father of the Lynam boys was brewing alcohol to make biodiesel on the family's property at Ballandean.
Local winemaker Angelo Puglisi says the boys likely consumed the alcohol by mistake.
"This 'grappa' that everyone is talking about was being produced to make diesel and somehow these young fellas got hold of it," he told AAP.
"They just made a mistake."
Puglisi said media reports suggesting grappa was routinely made by Italians in the area were wrong.
"The father has already had tragedy in his life, his wife died only a few months ago."
Josh Lynam may escape with minor eye damage, a doctor says.
Princess Alexandra Hospital's clinical pharmacologist Dr Peter Pillans says the older Lynam brother's chances are good.
"I would imagine he didn't have as much," he told reporters. "As far as I'm aware he's doing pretty well."
Pillans said common injuries for survivors of methanol poisoning included blindness, nerve and brain damage.
Biodiesel
What is it and how is it made
* The first diesel engine was created in the late 1800s by Rudolf Diesel. It was powered by peanut and vegetable oil, before petroleum-based diesel fuel became widely available.
* Biodiesel is made from vegetable oils, animal fats, recycled greases such as used cooking oil, algae, pomgania trees and dryland juncea.
* These materials are combined with alcohol causing the condensation of water, leaving behind fatty acids, which are then combined with other ingredients to make fuel.
* Biodiesel can be used in cars, trucks, machinery, construction equipment, ships and other engines that take diesel.
- AAP