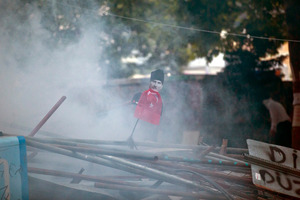 Turkish riot police have fired water cannon and tear gas to disperse thousands of demonstrators in the capital Ankara, as clashes also raged in Istanbul on the worst night of violence in nearly two weeks of nationwide anti-government unrest.
The police intervention in the capital came as some 5,000 people took to the streets in the city's downtown area chanting: "Government, resign!'', a reporter saw.
The riot police were back in Istanbul's Taksim Square late on Tuesday to drive out the thousands of protesters who sought to reoccupy the area after the cops had expelled them in a pre-dawn raid.
But less than an hour later, a substantial group of activists marched back into the square chanting: "Taksim everywhere, resistance everywhere.''
The protesters then built an enormous bonfire, signaling their determination to remain.
The latest police offensive against the protesters in Taksim caused additional casualties, Hurriyet Daily News reported, while television stations broadcast images of ambulances rushing to the square.
As the police stormed Taksim for the second time in less than 24 hours, residents of many Istanbul neighbourhoods banged pots and pans in a gesture of solidarity with the protesters.
The initial police invasion of the square took place just hours after the government said it was open to talks with demonstrators.
Hundreds of people were injured during the pre-dawn operation, with five demonstrators listed in serious condition at hospitals, the Turkish Medical Association said.
Disparate groups with a wide range of grievances were galvanised by the violent eviction on May 31 of people who were occupying Gezi Park, one of the last green spaces in central Istanbul, to block Prime Minister Recep Tayyip Erdogan's plan to build a commercial development on the site.
- AFP