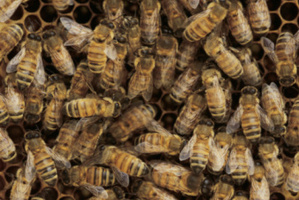 A swarm of runaway bees who have found shelter in a ventilation air hole forced a Belgrade hospital to evacuate all the patients and staff from a now-shuttered surgery wing, Serbian state television reported.
"It was a real emergency, we have moved the patients and hermetically closed the wing, including the intensive care," Milan Jovanovic, head of Belgrade's clinic for plastic and reconstructive surgery, told the station.
The bees have settled in a space between the ventilation and air conditioning systems in the past weeks, possibly hiding from a wave of cold and rains that have hit Serbia, said Sladjan Simovic of Belgrade's Association of Beekeepers.
"We had to bring in cranes and firefighter ladders as we could not get inside," said Simonovic.
He estimated that about "several thousand bees" have settled there, but promised they would all be transported to a quarantine area to examine their condition.
Patients would return to the "bee-occupied wing" on Tuesday, hospital authorities said.
Experts estimate that some 5,000 bee communities are officially registered in Belgrade area, but rainy weather has caused many queen-bees to run away from their hives.
- AFP