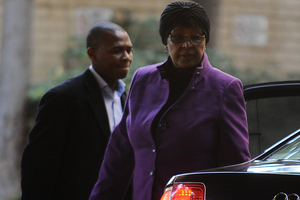 Nelson Mandela remains in serious but stable condition while being treated in intensive care for a lung infection, the South African government says.
The 94-year-old was rushed to a Pretoria hospital early on Saturday, in the latest health scare that has prompted South Africans to come to terms with the mortality of their anti-apartheid hero.
"He is receiving intensive care treatment,'' presidential spokesman Mac Maharaj, who served jail time with Mandela, told AFP.
He "remains in hospital, and his condition is unchanged,'' the presidency said in a statement.
The government had described Mandela, South Africa's first black president, as being in a "serious but stable'' condition on Saturday.
On Monday, Mandela was visited by his former wife Winnie Madikizela-Mandela and their daughter Zindzi.
The former president's two other daughters paid him a visit on Sunday, while his current wife Graca Machel has been by his bedside since his admission to hospital.
Little information has been released about his condition, but he has a long history of lung problems since being diagnosed with early-stage tuberculosis in 1988.
It is the fourth hospital stay in seven months for the man beloved as a global symbol of peace and forgiveness and the father of the "Rainbow Nation''.
The African Union Commission chief, Nkosazana Dlamini-Zuma, said she has heard that Mandela is "responding positively to treatment.''
"He has done his part. We just pray that he recovers,'' said Kennedy Moraga outside a private specialist heart clinic in Pretoria, where he is believed to be receiving treatment.
Meanwhile access to the revered statesman has been restricted to close family members in a bid to reduce the risk of further infections.
Maharaj told AFP the authorities wanted "to create a conducive environment for his recovery''.
"Close loved ones are going to him for that reason, that's all, nothing else,'' he said. "He is receiving treatment and we want him to receive the treatment in the best condition for his family.
"They would like to limit the flow of visitors.
"The president will visit him when it's appropriate,'' he said, adding that Zuma does not want "to invade that space willy-nilly''.
Mandela, who turns 95 next month, was back in hospital two months after being discharged in April following treatment for pneumonia.
Fellow Nobel Peace Prize laureate Archbishop Desmond Tutu joined the legions of local and international personalities wishing the ailing leader a speedy recovery.
"As the beloved father of our nation ... once again endures the ravages of time in hospital our prayers are for his comfort and his dignity,'' a statement from Desmond and Leah Tutu's foundation said.
- AFP