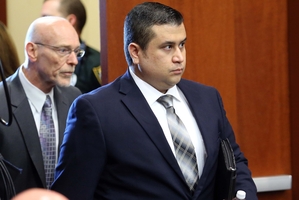 The US trial of a neighbourhood watchman who shot dead an unarmed black teenager in a case that sparked protests and claims of racial profiling has kicked off with jury selection.
George Zimmerman, 29, faces a charge of second-degree murder for killing Trayvon Martin, as the 17-year-old walked with candy in his pocket through a gated Florida community on February 26, 2012.
Zimmerman - who has pleaded not guilty - sat in the dock in the Seminole County courthouse as Judge Debra Nelson, together with lawyers for both sides, began the process of picking six jurors from a pool of potentials, about 200 of whom lined up on Monday.
Martin's parents, meanwhile, expressed relief that the trial was starting and called for peace as proceedings got under way.
"We are seeking justice for our son and a fair trial," father Tracy Martin told reporters alongside his ex-wife Sybrina Fulton and family lawyer Benjamin Crump. "Trayvon's life was taken unnecessarily and tragically, but we call upon the community to be peaceful."
When police arrived at the scene, the only items found in the pockets of the hooded sweatshirt belonging to the teenager - who was on his way to a house where his father was staying with a friend - were a pack of Skittles and a bottle of iced tea.
The son of a white father and a Hispanic mother, Zimmerman has argued he acted in self defence when he shot Martin after confronting him.
Sanford police initially released Zimmerman, saying he acted in line with so-called "stand your ground" rules, which give immunity to those who use firearms when they feel their lives are in danger.
But Zimmerman was later arrested and faces life in prison if convicted. In the end, he opted not to base his defence on the "stand your ground" law and is instead mounting a traditional self-defence case.
Showing photos as evidence, the volunteer watchman argues Martin attacked him and left him with a bloodied head.
The killing riveted the United States at the time, sparking massive protests in several cities against what many saw as a racial bias in the crime - and in the police response.
Jury selection is expected to take several days because of the case's notoriety and the difficulty of finding people who can examine the case as objectively as possible.
- AFP