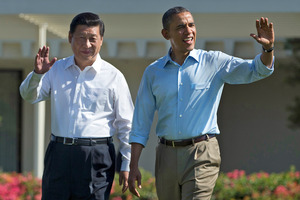 President Barack Obama and President Xi Jinping have wrapped up their first US-China summit after securing new levels of understanding on North Korea, climate and cyber issues.
Obama and Xi spent a total of eight hours together over two days, encompassing talks, a private dinner, and a stroll through the lush vegetation of a California desert oasis, seeking to forge a personal connection.
US officials said the unusually informal talks at the Sunnylands retreat, had allowed Xi and Obama a rare chance to swap insights about where they hoped to lead their own nations, and the world in years to come.
US National Security Adviser Tom Donilon said Obama and Xi had closely consulted on North Korea's recent nuclear brinkmanship, and agreed that they would work together on the "denuclearisation" of the Korean peninsula.
The two men achieved "quite a bit of alignment" on the issue, Donilon said, and praised recent steps taken by Beijing to expresses disapproval of the nuclear and missile tests and bellicose rhetoric of its nominal ally.
Obama meanwhile made clear that a rash of suspected Chinese cyber attacks on US commercial property and military technology would be an "inhibitor" to relations, and would be a "very difficult" problem to solve.
Donilon said that Xi "acknowledged" how important the issue was to Washington, and left California in no doubt where Obama stood.
The leaders also offered directions to working group officials from both sides who are due to sit down to discuss cyber issues in July.
On Friday, Obama called for common "rules of the road" on cybersecurity.
"It's critical, as two of the largest economies and military powers of the world, that China and the United States arrive at a firm understanding," Obama said.
Xi said he wanted "good-faith co-operation" to clear up "misgivings" by the United States about cybersecurity, telling reporters that China was also "a victim of cyberattacks."
In a more tangible outcome from the talks at the Sunnylands retreat, the White House said Obama and Xi had agreed on a joint effort to combat climate change, specifically the production of hydroflourocarbons or "super greenhouse gases".
- AFP