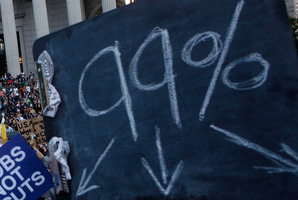 Hundreds of people have demonstrated in New York in a show of support for mass protests in Turkey against the Islamist-rooted government of Prime Minister Recep Tayyip Erdogan.
The marchers gathered at Zuccotti Park, near Wall Street, which also became the nerve centre for the Occupy Wall Street movement when it took over the public space in late 2011.
Many wore red and white, the colours of the Turkish flag. They chanted in Turkish: "Tayip, Resign!" Their banners read, in English and Turkish, "Enough!" and "Resistanbul."
In Istanbul, thousands of protesters in Istanbul celebrated a victory earlier as police withdrew from Taksim Square, in one of the largest demonstrations against Erdogan's government.
"Government, resign!" protesters shouted as riot police pulled back from the city's central square, the epicentre of the demonstrations that have left dozens injured and earned Turkey a rare rebuke from its Western allies.
Police have detained 939 protesters in over 90 demonstrations in 48 cities, officials say.
Erdogan's populist government is regularly accused of trying to make the predominantly Muslim but staunchly secular country more conservative.
- AFP