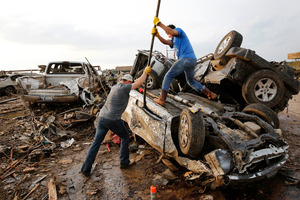 The death toll from tornadoes that ripped through Oklahoma and neighbouring states has jumped to 12, less than two weeks after a monster twister hit the area.
The Oklahoma Medical Examiner's Office announced nine fatalities, while authorities in Missouri said on Saturday three people died as a result of flooding there in the aftermath of the storms.
Officials said the tornadoes, which touched down late on Friday near Oklahoma City, injured dozens of people. The Oklahoman newspaper's website reported that at least 87 people were treated in local hospitals.
Reports said five twisters struck the area around Oklahoma City, with winds of up to 145k/ph, accompanied by very large hail. Flash floods also hit the area, the Tulsa World newspaper said.
Friday's storms were far less damaging than the tornado that hit the Oklahoma City suburb of Moore nearly two weeks ago, leaving 24 people dead.
With an average of 1,200 tornadoes per year, the United States is the most tornado-prone country in the world.
- AAP