Algerian President's absence leaves dangerous void in state which is linchpin in war against Islamist terrorism.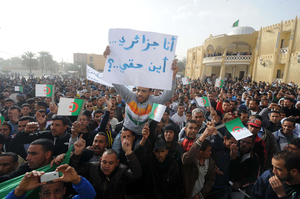 Revolt continues to shake Egypt, Libya and Tunisia, yet Algeria, in contrast, seems to be North Africa's beacon of stability.
But experts say this country, a linchpin in the war against Islamist terrorism, threatens to blow if problems triggered by the illness of its 76-year-old President go unresolved.
Abdelaziz Bouteflika, Algeria's longest-serving head of state, was rushed to Paris on April 27 for treatment at Paris' Val-de-Grace Hospital, an elite military facility that France uses to provide "medical diplomacy" for friendly VIPs.
According to the Algerian Government, Bouteflika suffered a "minor" stroke and is "doing well and having a rest". On May 21, the French Defence Ministry said in a terse communique that he had been transferred to another military unit - reported to be the Invalides Hospital in Paris - "to continue his convalescence".
Bouteflika's absence has left a dangerous void in Algeria, where the rumour mill is running high.
Opacity is de rigueur in this authoritarian-ruled country. In the 1980s, Bouteflika's predecessor, Chadli Bendjedid, went repeatedly to Belgium for treatment for a condition that remains a mystery, even though he died last year. Bendjedid took over from Houari Boumedienne, who died in office in 1979 after spending weeks in the Soviet Union for a "work and friendship visit" that turned out to be medical. His cause of death is a state secret even today.
No details have emerged about Bouteflika's current condition, but there are several pointers to something bad. The last time he fell seriously ill was in 2005, for what was officially a bleeding stomach ulcer; he was again flown to France for treatment but was shortly afterwards shown on television to reaffirm that he was still at the helm. No such images have so far emerged this time.
An Algerian publisher, Hicham Aboud, is facing prosecution for harming state security after two of his newspapers, Mon Journal and Jaridati, reported that Bouteflika is in a coma. That account may not be too wide of the mark: a French source told the Herald: "From what I gather, he is very poorly and in roughly the same state as Franco in his final years," a reference to Spain's former leader, Francisco Franco, who suffered several bouts of worsening illness, then lapsed into a coma before dying in 1975.
The jitters caused by Bouteflika's absence shed light on a country suffering from problems of governance, corruption and inequality.
Algeria achieved independence from France in 1962 and has always been ruled by the National Independence Front, known by its initials in the French as the FLN.
Intertwined with the military, the intelligence agencies and big state corporations, the FLN has essentially turned Algeria into a one-party state, governing over an opposition that is allowed but is weak and divided. In the country's first multi-party vote in 1991, the military declared a state of emergency to thwart a victory by an Islamist party, the Islamic Salvation Front (FIS), plunging the country into a decade of massacres and kidnappings in which between 150,000 and 200,000 people lost their lives.
Bouteflika, a Foreign Minister, helped end the bloodshed by offering amnesties to guerrillas and bought social peace by channelling oil and gas subsidies into food and housing, much of which is being built by Chinese labour. Grassroots loyalty to this patriarchal figure, coupled to memories of the "black decade" and a lack of organised opposition, explain why young Algerians who protested in 2010 refused to take a more violent path when the Arab Spring erupted the following year.
Today, alienation with the FLN runs deep and resentment at corruption and unemployment is building, say specialists. In 2011, Bouteflika scrapped the state of emergency and held multi-party legislative elections, but only a third of voters bothered to choose a candidate. Social networks buzz with accusations and jokes about cronyism and kickbacks.
The country seethes with a demographic crisis: its population has more than doubled over the past 30 years to reach 38 million, a fifth of whom are aged between 16 and 24. Officially, 21 per cent of young people are out of work, but many of those with jobs have little status, security or benefits. And the hydrocarbon bounty, which accounts for 98 per cent of exports, is running out. By 2026, Algeria will become a net energy importer on current trends.
Lahcen Achy, an economist at the Carnegie Middle East Centre think-tank, says the warning lights are flashing. "If left unaddressed, the social, economic, and political grievances festering beneath the surface in Algeria could rapidly escalate into popular revolts that threaten the regime's stability," he told the Herald. "The Government must begin enacting managed political reform or face the possibility of collapse."
Behind the scenes, leading figures in the elite are talking frantically about a replacement if Bouteflika dies or becomes so incapacitated that he cannot run next year for his fourth five-year term in office. But prospects of radical change seem remote.
The FLN's grip on power effectively rules out members of the opposition, either at home or among those living in exile. Within the party, some signs of a struggle have emerged. The press has reported on corruption scandals involving the President's entourage, including his brother Said, and former Energy Minister Chakib Khelil. But things remain on hold so long as Bouteflika has a chance of a return. "The fight for succession is open, but everything is blocked," said Ali Yahia Abdennour, a lawyer and opposition figure.
A source in Paris said Bouteflika's replacement would have to backed by all the major centres of power, including the public. "It would have to be someone who can reassure the poor and the powerful, have the right ties with the military, but do something about corruption at the top and also reassure Western countries that Algeria will still combat Islamism. It would have to be a five-footed sheep," said the source, using an expression in French to describe something miraculous.