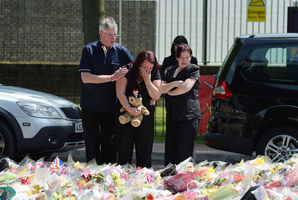 She had bravely come to see the spot where her son's life was brought to a brutal end, but as she arrived at the flower-carpeted murder scene in Woolwich, it became more than Lyn Rigby could bear.
Her legs buckled under her and Drummer Lee Rigby's mother sank to her knees as her face dissolved into tears of raw grief.
She was consoled by her husband, Ian, and other members of Drummer Rigby's family, who wrapped their arms around her as she sat, trying to find the strength to get up.
Drummer Rigby's sister Sara, 24, also had to be helped up after she fell to the ground, overcome with emotion.
The family later added their own tributes to the thousands of bouquets. Most poignant of all was a Peppa Pig soft toy, wearing a T-shirt saying "Daddy's Little Buddy", left by Drummer Rigby's widow, Rebecca, on behalf of their 2-year-old son, Jack, to whom the soldier had been a "dad in a million".
The couple had separated but her own card on the bouquet said: "My husband, my love, my best friend ... Sleep tight, your ever-loving wife, Becky."
Drummer Rigby had become engaged to another soldier, Aimee West, 22, who was serving in Afghanistan with the Royal Military Police when he was murdered.
She was flown home by the Army and on Sunday she visited the murder scene where she left a bouquet to: "My gorgeous, wonderful, loving fiancé. You will always have my heart and I know you will always be my Guardian Angel watching over me. Rest in Peace baby, all my love for ever and ever, Your Princess."
Friends said West, of Middlesex, had bought Drummer Rigby the Help for Heroes top he was wearing when he was killed.
Read more: PM dodges Woolwich fire