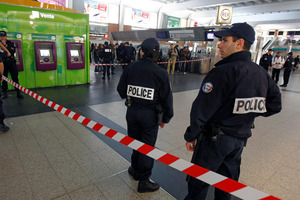 A French soldier on anti-terrorist duties in Paris has been stabbed in the neck in an attack that President Francois Hollande says cannot "at this stage" be linked to the brutal murder of a London soldier.
The attacker fled the scene after stabbing the 23-year-old in La defence business district, which at weekends is packed with shoppers.
The local prosecutor's office said anti-terror investigators would handle the probe into the attack, which was captured by surveillance cameras.
The soldier was in uniform and armed and was patrolling as part of France's Vigipirate anti-terrorist surveillance scheme that sees troops deployed at high-profile tourist, business and transport sites in the capital.
The attacker, described by police as around 1.9m tall, bearded and wearing a jersey and black trousers, approached his victim, stabbed him and then melted into the crowd without saying a word.
The soldier was with two colleagues on the patrol.
Hollande told reporters accompanying him on a trip to Ethiopia: "We still do not know the exact circumstances of the attack or the identity of the attacker, but we are looking at all options. I do not think that at this stage a link can be made [to the attack in London]."
Defence Minister Jean-Yves Le Drian visited the wounded soldier, who was in a stable condition in hospital, and later told reporters the man had been targeted because he was a soldier.
Meanwhile, three men have been arrested on suspicion of conspiracy to murder Army drummer Lee Rigby, who was hacked to death in a London street by two Islamists.
Two men aged 24 and 28 were arrested at a residential address in southeast London while a 21-year-old man was arrested in the street around 1.5km from the murder scene, Scotland Yard police headquarters said.
Taser guns were used on the 28-year-old and the 21-year-old, though neither needed hospital treatment.
- AFP