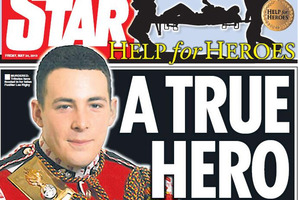 Britain's newspapers have paid tribute to the soldier brutally murdered in London and demanded the preacher suspected of radicalising suspect Michael Adebolajo be jailed.
The soldier, who had served in Afghanistan, was 25-year-old Lee Rigby, known as Riggers to his colleagues.
"Riggers ... A True Warrior" said the Sun's headline yesterday.
It launched a scathing attack on Anjem Choudary, the Islamist believed to have inspired 28-year-old Adebolajo following his conversion from Christianity. It branded the cleric the "epicentre of evil" and called for his prosecution.
"Choudary remains free to spew his bile - his every utterance a defiant two fingers to our anti-terror laws," the paper said.
"They [police] already have the powers to arrest and charge those promoting terrorism. They must stop pussy-footing around and use them."
The Daily Telegraph criticised intelligence services, which reportedly tracked Adebolajo for eight years, asking "Why was he free to kill?"
The Daily Mail similarly targeted intelligence officials, calling it a "betrayal of a hero father" on its front page.
"Most disturbing of all is the way hate-peddlers like Choudary are allowed to deliver their sermons of murder with such impunity," said the Mail's editorial.
"Why, when police, so in thrall to political correctness, are so quick to pounce on 'hate crimes' by indigenous Britons, are they so loath to prosecute the zealots who wish to see our freedoms destroyed."
The Guardian praised Prime Minister David Cameron's call for calm and played down the political motivations for the murder.
"This was a truly revolting event," said its editorial.
"There was no justification for it. The responsibility lies solely with those who committed it.
"Mr Cameron's message of calm, solidarity and inclusiveness was the right one. And so, as long as he sticks to it, was his rejection of kneejerk legislative responses."
The Telegraph said: "The response to the attack - and the very fact that it was so shocking and unusual an incident - was a tribute to Britain's strengths, rather than a display of its weaknesses."
The Times singled out 48-year-old Ingrid Loyau-Kennett for particular praise after she confronted the two attackers.
"Those who showed the way were the few brave women who sought to protect his body in Woolwich, and even challenged his killers," it said.
- AFP