Police deploy 1200 extra officers to reassure public as second duo rounded up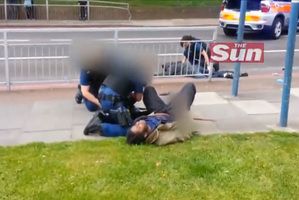 British police have made two further arrests and raided houses across London following the brutal murder of a serving soldier who survived a tour of duty in Afghanistan.
Prime Minister David Cameron appealed for calm after 25-year-old Lee Rigby was butchered outside a London army barracks on Thursday, while an extra 1200 officers were deployed on the capital's streets in a bid to reassure the public.
The two chief suspects are under arrest in separate hospitals. They are both stable and their injuries are not life threatening, police said.
In a brazen mid-afternoon attack in Woolwich, southeast London, the pair apparently hacked Rigby with knives and a meat cleaver before attempting to explain their actions in an Islamist tirade to passers-by.
The victim, who has a 2-year-old son named Jack, was a machine gunner who served with Nato-led forces in Afghanistan in 2009, the Defence Ministry said.
The Sun newspaper yesterday reported that the victim's girlfriend was herself serving with the Royal Military Police in Afghanistan and was flying home after receiving the news.
Police searched five properties in London and one in a village in eastern England, and announced the arrests of a man and a woman, both aged 29, for conspiracy to murder.
Detectives are sifting through witness statements, social media and security camera footage, while forensic experts have been combing the scene in Woolwich for evidence.
A government source said "we will be looking into the possibility that they were known" to security services.
British media are naming the suspects as 28-year-old Michael Adebolajo and 22-year-old Michael Adebowale, both from London.
The man thought to be Adebolajo was videoed still holding his weapons and saying they killed Rigby "because Muslims are dying daily by British soldiers".
Footage released by the Daily Mirror yesterday showed the moment that police gunned down the two suspects as they charged towards officers.
Cameron condemned the attack as a "betrayal of Islam" and branded the murderers "sickening".
"This was not just an attack on Britain and on the British way of life. It was also a betrayal of Islam and of the Muslim communities who give so much to our country," he said.
The murder is the first deadly Islamist attack in Britain since 2005, when suicide bombers killed 52 people on London's tube.
The soldier's family issued a statement paying tribute to a "loving" family man.
The extra police officers on the city's streets were concentrating on religious venues and transport hubs.
- AFP