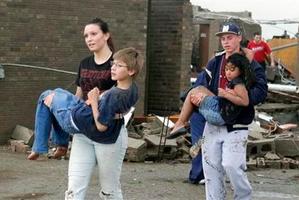 The principal's voice came on over the intercom at Plaza Towers Elementary School: A severe storm was approaching and students were to go to the cafeteria and wait for their parents to pick them up.
But before all of the youngsters could get there, the tornado alarm sounded.
The plan changed quickly.
"All the teachers started screaming into the room and saying, 'Get into the hallway! We don't want you to die!' and stuff like that," said sixth-grader Phaedra Dunn. "We just took off running."
In the moments that followed, some of the children at Plaza Towers Elementary would, in fact, die. At least seven were killed by the twister yesterday. Others would crawl out of the rubble, bloodied and bruised, utterly terrified.
The tornado that devastated this Oklahoma City suburb of 56,000 people destroyed Plaza Towers and also slammed Briarwood Elementary, where all the children appear to have survived. Students and parents recounted stories of brave teachers who sheltered their pupils, in some cases by herding them into a closet and a restroom amid the fear and panic.
After the tornado alarm went off, students at Plaza Towers scrambled into the halls. But the halls - some of which were within the view of windows - did not appear safe enough.
Photos: Tornadoes tear through Oklahoma states
Sixth-grader Antonio Clark said a teacher took him and as many other youngsters as possible and shoved them into the three-stall boys' bathroom.
"We were all piled in on each other," the 12-year-old said. Another teacher wrapped her arms around two students and held Antonio's hand.
Twenty seconds later he heard a roar that sounded like a stampede of elephants. His ears popped.
Then it all stopped almost as suddenly as it started. Crouched down, his backpack over his head, Antonio looked up. The skylight and the ceiling were gone, and he was staring up into a cloud filled with debris.
Antonio and a friend were among the first to stand up. They climbed over debris where their classroom had been just moments earlier. Students and teachers were struggling to free themselves from under the bricks, wooden beams and insulation. Some people had bleeding head wounds; blood covered one side of someone's eyeglasses, Antonio said.
"Everybody was crying," Antonio said. "I was crying because I didn't know if my family was OK."
Then Antonio saw his father ride up on a mountain bike, yelling his son's name.
Phaedra survived, too. Her mother rushed to the school just moments before the tornado hit, covered Phaedra's head with a blanket to protect her from hail and ushered her out the door. Phaedra's 10-year-old sister, Jenna, didn't want to budge from the school.
The principal "grabbed her backpack, put it over her head and literally said, 'You're mom's going to open the door. Get out. You're safer with your mom,' and pushed her out the door," said Amy Sharp, the girls' mother.
At Briarwood Elementary, the students also went into the halls. But a third-grade teacher didn't think it looked safe, so she herded some of the children into a closet, said David Wheeler, one of the fathers who tried to rush to the school after the tornado hit.
The teacher shielded Wheeler's 8-year-old son, Gabriel, with her arms and held him down as the tornado collapsed the school roof and starting lifting students upward with a pull so strong that it literally sucked glasses off kids' faces, Wheeler said.
"She saved their lives by putting them in a closet and holding their heads down," Wheeler said.
Gabriel and the teacher - whom Wheeler identified as Julie Simon - had to dig their way out of the rubble. The boy's back was cut and bruised and gravel was embedded in his head, Wheeler said. It took nearly three hours for father and son to be reunited.
Other parents waited even longer, as they drove from one emergency shelter to another in search of their children.
At St. Andrews United Methodist Church, 15-year-old Caitlin Ulrey waited about seven hours before her parents found her. Her high school had not been hit by the tornado. But her nerves were frayed.
"I was starting to panic and shake and have an anxiety attack," Caitlin said.
At Plaza Towers, several students were pulled alive from under a collapsed wall and other heaps of mangled debris. Rescue workers passed the survivors down a human chain of parents and neighborhood volunteers. Parents carried dazed and terrified children in their arms to a triage center in the parking lot.
Hundreds of Oklahoma schools have reinforced tornado shelters, but not the two that were hit on Monday.
Albert Ashwood, director of the Oklahoma Department of Emergency Management, said it is up to each jurisdiction to set priorities for which schools get funding for safe rooms. But he said a shelter would not necessarily have saved more lives at Plaza Towers. The tornado was an EF5 twister, the most powerful type, with winds of at least 320 kph.
"When you talk about any kind of safety measures ... it's a mitigating measure, it's not an absolute," Ashwood said. "There's not a guarantee that everyone will be totally safe."
Moore School Superintendent Susan Pierce said teachers and administrators put their well-rehearsed crisis plan into action as the tornado approached. But she suggested there are limits to what people can do in the face of such a powerful storm.
"Safety is our main priority," Pierce said. "We monitored the weather throughout the day and when it was time to shelter, we did just that."
THE 10 DEADLIEST US TORNADOES SINCE 1900:
• 695 deaths. March 18, 1925, in Missouri, Illinois and Indiana.
• 216 deaths. April 5, 1936, in Tupelo, Miss.
• 203 deaths. April 6, 1936, in Gainesville, Ga.
• 181 deaths. April 9, 1947, in Woodward, Okla.
• 158 deaths. May 22, 2011, in Joplin, Mo.
• 143 deaths. April 24, 1908, in Amite, La., and Purvis, Miss.
• 116 deaths. June 8, 1953, in Flint, Mich.
• 114 deaths. May 11, 1953 in Waco, Texas.
• 114 deaths. May 18, 1902 in Goliad, Texas.
• 103 deaths. March 23, 1913, in Omaha, Neb.
OKLAHOMA TORNADO TRACKED PATH OF 1999 TORNADO:
Today's powerful tornado in suburban Oklahoma City loosely followed the path of a killer twister that slammed the region in May 1999.
The National Weather Service estimated that the storm that struck Moore, Oklahoma, today had wind speeds of up to 320 kph, and was up to 1 kilometre wide. The 1999 storm had winds clocked at 480 kph, according to the weather service website, and it destroyed or damaged more than 8,000 homes, killing at least two people.
Kelsey Angle, a weather service meteorologist in Kansas City said it's unusual for two such powerful tornadoes to track roughly the same path. The 1999 twister was part of a two-day outbreak sweeping mostly across central Oklahoma - similar to the past two days.
The weather service has tentatively classified the Moore twister's wind speeds as an EF4 on a 5-point scale. Angle said less than 1 per cent of all tornadoes reach EF4 or EF5.
The thunderstorm developed in an area where warm moist air rose into cooler air. Winds in the area caused the storm to rotate, and that rotation promoted the development of a tornado. The most destructive and deadly tornadoes develop from rotating thunderstorms.
The biggest known tornado was nearly 4 kilometres wide at its peak width, which the weather service describes as near the maximum size for a tornado. It struck Hallam, Neb., in May 2004.
The deadliest tornado, which struck March 18, 1925, killed 695 people in Missouri, Illinois and Indiana.
Deaths from twisters have been declining in recent years because of improved forecasts and increased awareness by people living in tornado-prone areas, especially in smaller and rural communities.
TORNADOES IN NEW ZEALAND:
About 20 to 30 tornadoes happen in New Zealand each year, most frequently in the west and north. Tornadoes sometimes occur during thunderstorms, are sometimes preceded by a long, continuous roar or rumble, and generally last less than 15 minutes.
Damage paths are 10 to 20 metres wide and are usually less than five kilometres long.
• Develop a household emergency plan and prepare a portable getaway kit.
• When a warning is issued, alert others if possible.
• Take shelter in a basement or interior room without windows on the lowest floor, and get under sturdy furniture.
• Close windows, external and internal doors.
• Don't walk around outside, and avoid driving unless absolutely necessary.
• After the storm, listen to local radio stations for updates and advice from emergency management officials.
• Ask your council for advice on how to clean up debris safely.
Source: Ministry of Civil Defence and Emergency Management
- AP and APNZ