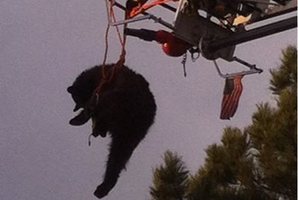 It was a bigger-than-average tree rescue for firefighters in Colorado Springs.
They had to use a ladder truck to reach a black bear after it fell asleep in a tall pine tree after being tranquilised yesterday.
The bear weighed between 68 and 90 kg. State wildlife division spokesman Michael Seraphin says a wildlife officer and firefighters put a harness around it. Then they lowered the bear to the ground as it dangled from the ladder.
Tranquilised bears usually fall out of trees and are caught with a tarp or are low enough for wildlife officers to climb up and retrieve them.
This bear was tranquilised twice, but the first dart only made it climb higher. After the second, it fell comfortably asleep in a crook in the tree.
- AP