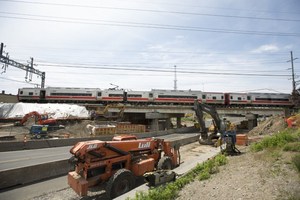 Officials described a devastating scene of shattered cars and other damage where two trains packed with rush-hour commuters collided in Connecticut, saying Saturday it's amazing that no one was killed.
Seventy-two people were sent to the hospital Friday evening after the crash, which damaged the tracks and threatened to snarl travel in the Northeast Corridor.
About 700 people were on board the Metro-North trains when one heading east from New York City's Grand Central Terminal to New Haven derailed at about 6:10pm (local time) just outside Bridgeport, transit and Bridgeport officials said.
The train was hit by a train heading west from New Haven to Grand Central on an adjacent track, Metropolitan Transportation Authority spokesman Aaron Donovan said. Some cars on the second train derailed as a result of the collision.
"The damage is absolutely staggering," said US Sen. Richard Blumenthal, describing the shattered interior of cars and tons of metal tossed around. "I feel that we are fortunate that even more injuries were not the result of this very tragic and unfortunate accident."
Blumenthal credited first responders, saying their "quick reactions and heroic efforts undoubtedly saved lives."
US Sen. Chris Murphy echoed that, saying it was "frankly amazing" people weren't killed in the accident.
Both Connecticut senators said new Metro-North Railroad cars built with higher standards may have saved lives.
Officials couldn't say when Metro-North Railroad service would be restored. The crash also caused Amtrak to suspend its passenger train service between New York and Boston.
Connecticut Gov. Dannel P. Malloy said commuters should make plans for alternative travel through the area.
National Transportation Safety Board investigators arrived Saturday and are expected to be on site for seven to 10 days. They will look at the brakes and performance of the trains, the condition of the tracks, crew performance and train signal information, among other things.
NTSB board member Earl Weener said he would not speculate on a cause for the collision. He said data recorders on board are expected to provide the speed of the trains at the time of the crash and other information.
"Our mission is to understand not just what happened but why it happened and determine ways of preventing it from happening again," Weener said.
Asked whether there were any signs of foul play and if investigators could rule out any cause, Weener said: "It's too early to rule out anything. We just got on scene. That, of course, will be something we look at immediately."
But Blumenthal referred to the crash as an accident and Malloy said Friday there was no reason to believe it was anything other than that.
Passengers described a chaotic, terrifying scene of crunching metal and flying bodies.
"All I know was I was in the air, hitting seats, bouncing around, flying down the aisle and finally I came to a stop on one seat," said Lola Oliver, 49, of Bridgeport. "It happened so fast I had no idea what was going on. All I know is we crashed."
Passenger Frank Bilotti said he was returning from a business trip in Boston on the westbound train when it crashed.
"Everybody was pretty much tossed around," said Bilotti, 53, of Westport, Connecticut, who wasn't injured other than a sore neck. He said the derailed train cars dug into the banks of the tracks.
"It was just a tremendous dust bowl," Bilotti said.
Firefighters used ladders to help people evacuate, he said.
"There were people on stretchers," he said. "There were people lying on the ground."
A spokeswoman for St. Vincent Medical Center said 46 people from the crash had been treated there, and that six of those were admitted. All were in stable condition, she said.
A Bridgeport Hospital spokesman said 26 people from the crash had been treated there, with three of them admitted. Two were in critical condition and one was in stable condition, he said. The other 23 were released.
Malloy said there was extensive damage to the train cars and the track. He said the accident will have a "big impact on the Northeast Corridor."
The area where the crash happened was already down to two tracks because of repair work, Malloy said. Crews have been working for a long time on the electric lines above the tracks, the power source for the trains. Malloy said Connecticut has an old system and no other alternate tracks.
The MTA operates the Metro-North Railroad, the second-largest commuter railroad in the nation. The Metro-North main lines run northward from New York City's Grand Central Terminal into suburban New York and Connecticut.
- AP