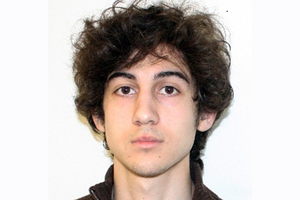 Boston bombing suspect Dzhokhar Tsarnaev wrote a note before his capture in which he called the victims "collateral damage" for US action in Afghanistan and Iraq, reports say.
"When you attack one Muslim, you attack all Muslims," Tsarnaev also scribbled on the inside wall of the boat where he hid from police during a massive manhunt in the days after the April 15 blasts, according to CBS News.
The twin explosions near the finish line of the Boston Marathon killed three people and wounded more than 260.
Citing unnamed sources, CBS News said the note claimed the bombings were payback for US military action in Afghanistan and Iraq and referred to the victims as "collateral damage".
Dzhokhar also said he did not mourn the death of his older brother Tamerlan, killed in a shootout with police, saying he was a martyr, the broadcaster said.
Federal prosecutors have charged Dzhokhar with using and conspiring to use a weapon of mass destruction, as well as the malicious destruction of property by means of deadly explosives.
He faces the death penalty if found guilty.
The case also allegedly involves three young students - two Kazakhs and an Ethiopian-American.
The Kazakhs - Dias Kadyrbayev and Azamat Tazhayakov - are being held on charges of covering up for the suspected Boston marathon bombers
According to prosecutors, the two went to Dzhokhar's dorm room at the University of Massachusetts - where they were all studying - and took his backpack and laptop and threw them away.
A third friend of the younger Tsarnaev, Robel Phillipos, was accused of lying to investigators after the blasts. He was ordered free on $100,000 bail May 6 as he awaits trial.
A lawyer for Tazhayakov said his client denies the charges against him.
"As far as where the case is going, the government alleges that my client gave consent for another defendant, Kadyrbayev, to enter the dorm room, which somehow created a conspiracy,'' Arkady Bukh told AFP.
"We are trying to get more evidence in order to intelligently assess the case. At this time, my client is denying any involvement in the crime."
A hearing scheduled for the two Kazakhs was cancelled on Tuesday to give the parties more time to prepare.
- AFP