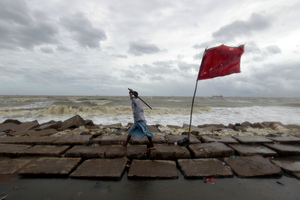 One person was killed last night as Cyclone Mahasen hit Bangladesh's southern Patuakhali coast, packing winds of up to 90km/h and forcing widespread evacuations.
About 800,000 people spent the night in more than 2000 cyclone shelters and schools and colleges on Bangladesh's long coastline.
Provincial officer Mohammad Abdullah said of the total, 600,000 people alone were evacuated in the Chittagong region, expected to bear the brunt of the cyclone.
"We have enough food, medicine and other facilities in these shelters," he said, adding that the armed forces were on standby.
The storm could affect millions of people in Bangladesh and Burma, according to the UN's Office for the Co-ordination of Humanitarian Affairs.
But Shamsuddun Ahmed, deputy director of the Bangladesh Meteor-ological Department, was confident the storm would cause little damage. "It is not a severe cyclone. It did not gain strength in the last part of its journey as it hit the coast. Its centre is still in the Bay of Bengal."
Provincial administrator Nurul Amin said one man drowned in a lake in a coastal zone as heavy rains battered the region while low-lying areas were submerged by a 1m storm surge.
In dozens of refugee camps along Burma's western coast, the order to evacuate ahead of the storm was met with widespread refusal.
In Rakhine state, about 140,000 mostly Rohingya people have been living in crowded camps since last year, when sectarian violence between the Muslim minority and ethnic Buddhists forced many Rohingya from their homes. As the weather worsened, most people camped there appeared to be staying put.

- AFP, AP