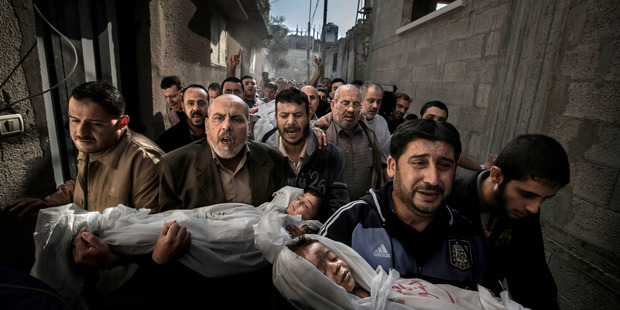 The World Press Photo Foundation has announced a review of the most prestigious prize in news photography after dramatic claims that the winning image may have been a fake.
Paul Hansen, the photographer who won the competition for his picture of grieving Palestinian men bearing the bodies of two children killed in an Israeli missile strike on Gaza City, has defended the authenticity of his work.
He responded to claims by technology website extremetech.com that forensic image analysis revealed the photograph had been doctored and was a composite of several pictures.
It was a "fraudulent forgery", it said.
The photographer, who works for the Swedish newspaper Dagens Nyheter, told news.com.au that he had merely used post-production techniques for "toning and balancing of the uneven light in the alleyway".
The World Press Photo Foundation said it would submit the picture to further scrutiny.
"Paul Hansen has previously explained in detail how he processed the image. World Press Photo has no reason to doubt his explanation. However, in order to curtail further speculation ... we have asked two independent experts to carry out a forensic investigation of the image file."
The British Journal of Photography's Olivier Laurent said Hansen was being made a "scapegoat" for post-production techniques that were now widely practised by top photographers.