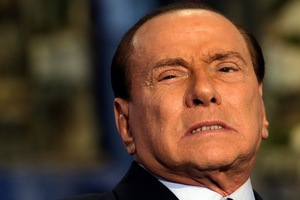 Silvio Berlusconi should be jailed for six years, prosecutors said yesterday, accusing the former Italian Prime Minister of masterminding a prostitution network for the "satisfaction" of his sexual needs.
They also called for the 76-year-old billionaire businessman, who is a senator in the Italian Parliament, to be banned from holding public office for life.
Berlusconi is accused of paying for sex with Karima El Mahroug, a Moroccan exotic dancer known by her stage name of Ruby the Heart Stealer. Prosecutors claim she was working as a prostitute when she attended his "bunga bunga" sex parties. The gatherings were held in 2010 at his villa in Arcore, a town on the fringes of Milan.
He is also accused of putting pressure on Milan police to have El Mahroug released from detention on a theft charge, citing the spurious justification that he thought she was the granddaughter of Hosni Mubarak, the deposed President of Egypt. Berlusconi denies both charges. El Mahroug says she has never been a prostitute and never slept with him.
"There is no doubt that Ruby had sex with the defendant and that she received benefits in exchange," Ilda Boccassini, the chief prosecutor, told the court in Milan.
She alleged that El Mahroug, who ran away from home in her early teens, had received more than €4.5 million ($7 million) from Berlusconi. The teenager was one of many young models and actresses recruited to the parties as "part of a system of prostitution organised for the satisfaction of the sexual pleasure of Silvio Berlusconi", Boccassini said.
She claimed that Berlusconi's aides knew that El Mahroug was only 17 when they invited her to the parties. A verdict is due on June 24.