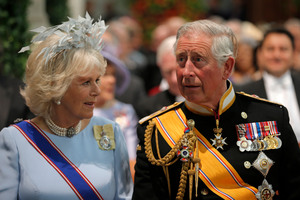 Queen Elizabeth II will miss the Commonwealth heads of government meeting in Sri Lanka in November, sending her heir Prince Charles to represent her, Buckingham Palace announced.
The 87-year-old head of the Commonwealth has only missed the biennial summit once before, when it was first held in 1971.
Her decision to stay away this year is part of a gradual move to cut down her long-distance foreign trips and comes as she hands over some of her duties to younger members of the royal family.
The monarch was forced to cancel several public engagements earlier this year after being admitted to hospital for the first time in 10 years, suffering from gastroenteritis.
"The queen will be represented at this year's Commonwealth heads of government meeting (CHOGM) by the prince of Wales,'' her Buckingham Palace residence said in a brief statement.
A palace source said the decision was unrelated to the controversy over Sri Lanka's human rights record, which has prompted Canada to threaten to boycott the meeting.
There had been a question mark over British Prime Minister David Cameron's attendance, but his office said he would be making the trip, while delivering a "very tough message'' that Colombo must make progress on human rights.
Queen Elizabeth attended the last Commonwealth summit in Australia in 2011 in her role as the symbolic head of the 54-member organisation, which is made up primarily of former British colonies, home to around two billion people.
Last year, younger royals visited Britain's overseas territories, and the other Commonwealth realms where she is head of state, on her behalf to mark her diamond jubilee, or 60 years on the throne.
"We are reviewing the amount of long-haul travel that is taken by the queen,'' a palace spokesman said.
Hosts Sri Lanka said 64-year-old Charles would be given a warm welcome at the November 15-17 meeting.
Charles accompanied his mother to the CHOGMs in Edinburgh in 1997 and Kampala in 2007, and represented the queen at the Commonwealth Games in New Delhi in 2010.
"Whilst paying enormous tribute to her majesty's continuing dedication and deep sense of duty to the Commonwealth, Sri Lanka warmly welcomes... the prince of Wales, to Colombo, Sri Lanka, for CHOGM 2013,'' the Sri Lankan government said in a statement.
Cameron hailed Queen Elizabeth's dedication to her Commonwealth role.
"We should all pay tribute to the incredible work that her majesty has done over six decades in support of the Commonwealth,'' he said.
"She is as passionate about the Commonwealth today as she has ever been.
"It's entirely understandable that she's not going to be travelling to Sri Lanka because she is scaling down some of her international travelling, which I think is not in the least bit surprising.''
The Sri Lanka summit has been mired in controversy, with Canada threatening to stay away unless Colombo investigates suspected war crimes committed by its troops in 2009.
Cameron will press President Mahinda Rajapakse's regime on allegations of rights abuses.
"He can go there and take a very tough message to the Sri Lankan government that they need to make concrete progress on human rights, reconciliation and political settlement,'' a spokesman for his Downing Street office said.
Rajapakse's regime faces allegations _ which it denies _ of indiscriminately killing civilians during the final assault on Tamil Tiger rebels that ended a four-decade civil war.
- AFP