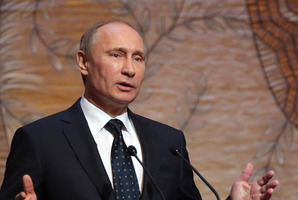 US Secretary of State John Kerry is heading for Russia on his first visit since taking up the post, travelling with a diplomatic bag bulging with global problems including the war in Syria.
And in a rare break with protocol he was to meet on Tuesday with Russian President Vladimir Putin, for what a senior State Department official called "a fantastic opportunity" for talks on the entire bilateral relationship.
"It is quite important that Secretary Kerry will have a substantial, full meeting with President Putin," the official said, asking to remain anonymous.
From Syria to the Boston bombings, missile defence, Iran and North Korea, rows over a ban on American adoptions of Russian children and the shuttering of US aid agencies, the plate will be full for the meetings.
Syria is likely to top the agenda, with the 26-month war threatening to spill across the region.
Washington has long urged Moscow - the most powerful ally of Syrian President Bashar al-Assad - to use its sway to halt the bloodshed, accusing Russian leaders of continuing to arm the Syrian regime.
Moscow has grown increasingly alarmed by the war, and at the weekend said it was "especially" concerned by Israeli strikes on Syrian targets, warning they threatened neighbouring Lebanon.
There were also troubling reports that Syrian rebels had used the nerve agent sarin gas, which would mark a dangerous escalation in the fighting.
"We have no information to suggest that they have either the capability or the intent to deploy or use such weapons," a second State Department official said, adding that Washington was trying to gather as many facts as possible.
While both sides have already backed a political solution to the 26-month war in Syria, "events have moved forward on the ground," he said.
"So this is a time to talk to the Russians to understand that from our side we remain committed, and if they are as well then we need to think about how to work operationally to make that happen," he said.
"I don't know if we will get an agreement or not, but we certainly think it is worth testing and trying to find some ways forward."
Stepped up cooperation on counter-terrorism will also be high on the agenda for the talks, following last month's bombings of the Boston marathon blamed on two brothers of Chechen descent.
Moscow and Washington were embarking on a "new era on that front in the wake of the tragedy", the first official said, adding that the two sides were looking for ways to cooperate and boost their dialogue.
- AFP