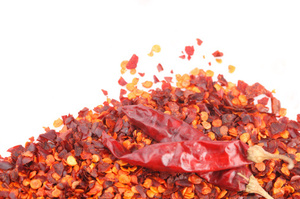 A Sydney takeaway store worker has stymied a robbery with an extra serve of spice, police say.
NSW Police say a man who walked into the Rosebery shop for his Sunday dinner got into an argument with two staff members about payment.
It's alleged he then walked behind the counter and tried to push the two workers aside, before attempting to open the cash register.
One of the employees ran to the front of the store to call police as the other, a 27-year-old woman, tried to hold the man back from the register.
Police say the man smashed the cash register on the floor and struck the woman - who promptly threw a bucket of chilli over his face, "instantly flooring'' him.
Officers arrived at the scene within minutes and arrested a 24-year-old man who was lying on the shop floor.
He was taken to Mascot Police Station where he received treatment for minor burns, before being charged with assault with intent to rob.
The Tempe man was refused bail to appear in Waverly Local Court on Monday.
- AAP