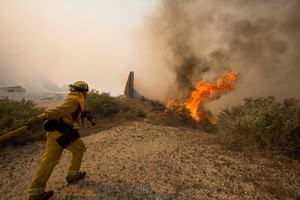 Some 4000 homes are being threatened by a growing wildfire northwest of Los Angeles that has forced the closure of California's scenic coastal highway.
Nearly 1000 firefighters are battling wind-fanned flames that have ripped through tinder-dry brush near Malibu, burning more than 40 square kilometres, said the Ventura County Fire Department (VCFD) on Friday.
The fire started on Thursday, forcing the closure of a 13-kilometre section of the Pacific Coast Highway (PCH) and a university campus, and reaching a US Navy facility on the coast, reports said.
By Friday morning 15 homes had been damaged but none destroyed, the VCFD said on its Twitter feed, putting the number of homes threatened at 4000. The blaze has been 10 per cent contained, it added.
More than 950 firefighters are battling the blaze, with more expected to arrive from neighbouring counties and from Los Angeles.
VCFD spokeswoman Lori Ross said the fire was heading south towards the LA County line, adding that firefighters were concerned that winds could turn onshore in the afternoon, posing a new threat.
Eight helicopters and six planes were dropping water and fire retardant onto blazing hillsides, up from a total of six aircraft on Thursday working to protect homes in the area, said the VCFD.
"There are some big beautiful homes up there .. But so far, they're doing a good job of protecting them," Ross told the LA Times.
California State University at Channel Islands remained closed, after cancelling all classes and activities at its Camarillo site Thursday "due to the (fire) and heavy smoke drifting onto the campus."
Wildfires are common across the western United States in the summer, and in southern California they are often fanned by strong offshore Santa Ana winds.
- AAP, AFP