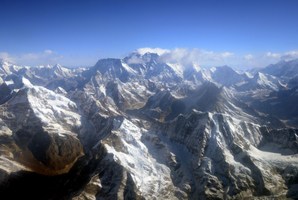 A trio of European climbers have made peace with a group of Nepalese guides working on Mount Everest after a "terrifying'' high-altitude brawl that sparked a police investigation.
Ueli Steck, a Swiss national famed for his climbing records, and Simone Moro of Italy, who has climbed the world's highest peak four times, had a bust-up with the guides near the summit of the world's highest mountain on Saturday.
An American eyewitness, speaking to AFP by telephone on condition of anonymity, said Steck, Moro and British photographer Jonathan Griffith were asked to wait on the mountain while the group of Nepalese rigged up some ropes.
The witness said the Europeans, who were trying to climb the 8848-metre mountain by a new "undisclosed'' route without supplementary oxygen, ignored the request and carried on.
"The Sherpas told the team not to climb above them while they were fixing the ropes but they did it anyway. Then some ice fell and hit the Sherpas, which made them angry,'' said the eyewitness.
Later in the day, a furious group of Nepalese stormed up towards the climbers' tents and pelted them with stones until the men came outside, after which a loud argument ensued and punches were allegedly thrown.
"It was terrifying to watch - they nearly got killed,'' the eyewitness said.
Moro, in a statement on his website, said it was "highly unlikely'' that any ice had fallen as a result of his group. He said he had been attacked by an "out-of-control mob''.
"They became instantly aggressive and not only punched and kicked the climbers, but threw many rocks as well,'' said the statement, which indicated the clash took place at Camp Two at an altitude of 6500 metres.
The statement added that Moro's group had caused no interference for the Sherpas who were fixing the ropes, which they do each year so that hundreds of other summit hopefuls can access the mountain.
Police near the world's highest mountain were investigating the incident and mediation meetings between the climbers and the local Sherpas took place on Monday.
"Both parties apologised to each other and ended the meeting amicably,'' Surendra Sapkota, an official at Nepal's tourism ministry told AFP.
"The three men have decided to resume their ascent,'' he said.
- AFP