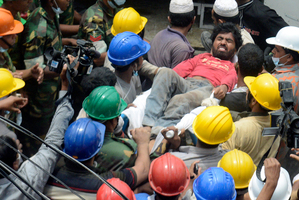 A fire broke out in the factory rubble of a Bangladesh factory complex, killing what the country's fire chief described as the last remaining survivor from the building's collapse.
"The fire broke out as we were cutting a beam to bring out what we believe was the last remaining survivor from the collapsed building. We managed to douse it, but as we came back we saw her dead," Ahmed Ali said.
"She was a brave lady and fought until the end. We worked for 10 to 11 hours today just to try to bring her out alive. We took the challenge but we lost. It's broken all our hearts. Everyone became emotional," he said.
Firefighters were seen weeping live on television after the death.
The garment worker's battle for survival had touched the nation as people watched on television.
The rescue teams had to postpone a decision to clean up the debris with cranes and earthmoving equipment just to make sure it did not harm her chance for survival.
A volunteer said although she was weak, she was able to make a feeble cry for help from underneath the debris on Sunday.
"When we first arrived on the scene, she pleaded with us to not to leave her. We gave her water, oxygen, saline and food. And she ate and hung on," said a volunteer in the rescue.
About 2500 people were rescued alive from the rubble, which included about 1000 seriously injured workers, many of whom had to have their limbs amputated to free them from the rubble.
Bangladesh rejected offers of search and rescue teams from other countries to free trapped people.
Teams of ill-equipped local rescuers sifted through mountains of wreckage for survivors.
Foreign offers to provide experienced disaster rescue teams, which could potentially have saved more lives, were turned down last week, diplomatic sources said.
Documents seen by the Daily Telegraph indicate Bangladesh's foreign and home ministries rejected the offers because they feared accepting aid would damage national pride. The documents disclose a diplomatic campaign to persuade Bangladeshi officials to accept the assistance, and "face-saving" suggestions on keeping it low-key to avoid offending Bangladeshi sensitivities.
When United Nations officials became aware of the large numbers of people trapped under the rubble, consultations were held with Western diplomats to assess whether Bangladesh had the wherewithal to mount an effective rescue operation.
They decided it did not, and approached several governments to identify which could send teams of rescuers and heavy lifting equipment.
Instead, the rescue operation relied on local volunteers without protective clothing, many of whom wore plastic sandals. Doctors delegated a volunteer garment factory worker to amputate the hand of one survivor to allow her to be rescued.
-AFP, Telegraph Group Ltd