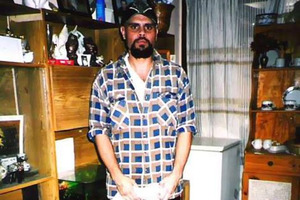 Any lingering romanticism surrounding Malcolm Naden, who eluded police for six years despite one of the biggest manhunts in New South Wales history, evaporated in a Sydney court this week.
Naden was for a time compared to the 19th century bushranger Ned Kelly as he foraged and stole to survive in the state's rugged Northern Tablelands, hiding in bush once traversed by Captain Thunderbolt, another outlaw who evaded capture for seven years.
But victims' statements to the NSW Supreme Court describing the agony of his victims' relatives and the subsequent devastation of his indigenous extended family showed the former abattoir worker as a brutal murderer and sex offender.
He appeared at a sentencing hearing following his earlier guilty pleas to charges of killing his 24-year-old cousin and mother of four Lateesha Nolan, and another cousin's wife, mother of two Kristy Scholes, also 24. Naden also pleaded guilty to the attempted murder of a police officer, indecently assaulting a 15-year-old girl, and charges relating to breaking into and stealing from numerous homes.
Years of narrow escapes and his survival through the cruel winters of the heavy bushland of the Northern Tablelands overshadowed the enormity of his crimes as a new folklore began to build around what some media described as a "master bushman". Police tracked his hideaways from the Western Plains Zoo at Dubbo to remote Lightning Ridge near the Queensland border, an Aboriginal mission at Condobolin, on the Lachlan River west of Sydney, Barrington Tops in the Great Dividing Range, and Kempsey on NSW's far north coast. An initial reward of A$50,000 ($60,400) doubled, then increased again to A$250,000.
Finally police zeroed in on the bushland around Nowendoc, southwest of Port Macquarie, where he had been living both off the land and in empty homes. In March last year he was captured following a brief struggle.
Naden had gone into hiding in 2005 after the body of Kristy Scholes was found in his room at a Dubbo house. He had locked her two children, both under 5, in the house with their mother's body. Police believed he had killed Lateesha Nolan, who disappeared after dropping her two youngest children off at their grandparents' house. Police found her car on a creek bed, but her body has never been located. Naden had also sexually assaulted his teenage cousin.
In court, victims' statements were read to sentencing Judge Derek Price. He was told how Naden had so terrified relatives that they had slept with weapons close at hand, and how his actions had splintered the family.
Lateesha Nolan's father, Michael Peet, wanted a reason for his daughter's death. "Lateesha trusted you," he said in his statement. "She was family, she was blood, and you betrayed her."
Nolan's mother Joan said Naden had taken her only daughter from her, leaving the family without closure and with pain that had not eased. There could be no traditional Aboriginal burial because the body had never been found. "All we have is a creeky river bed where she died," Joan Nolan said. "Lateesha doesn't deserve this as her last resting place."
The hearing was adjourned until May 2.