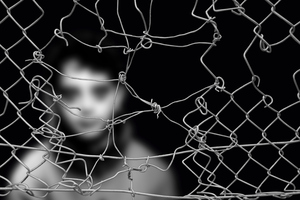 A 15-year-old South African boy died after he was kept chained to his bed at a training camp that boasted of "making men" out of its young recruits, a court has heard.
Raymond Buys was taken to hospital and put on life-support two months into a three-month training course run by Alex de Koker's Echo Wild Game Rangers in the bush south of Johannesburg. He was severely emaciated and dehydrated, had brain damage, a broken arm and bruises, and cigarette burns all over his body.
"I sent my son on this course to make him a better man, to give him a better future," Wilma Buys said.
De Koker, 49, and Michael Erasmus, 20, an employee, are on trial for charges of murder, child abuse and neglect, along with two cases of assault with intent to do grievous bodily harm in relation to Raymond's case.
His death is alleged to have been the third among the mainly Afrikaans children who attended the R22,000 ($2830) courses run by de Koker.
De Koker was given a suspended sentence in 2009 over the 2007 death of a 25-year-old man. He was not charged over the 2007 death of a 19-year-old man at the camp, who was ruled to have died of a heart attack.
Wilma Buys said that her son, who had been diagnosed with attention deficit hyperactivity disorder, started the course on January 12, 2011. De Koker telephoned Wilma Buys on March 23 to say her son had been admitted to hospital for tests. When she arrived, she found that he was dying. De Koker and Erasmus deny the charges. The case continues.
- Telegraph Group Ltd