President of organisation in NSW says more cash should go to old soldiers.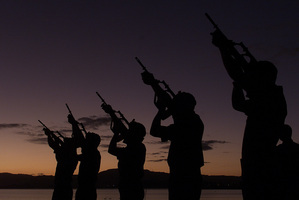 Thousands of Australians will head to their local Returned and Services League club after Anzac Day commemorations today for a beer and a round of two-up.
Across most of Australia the coin-spinning game that became a staple of life for World War I diggers can now be played only on April 25.
But while two-up is a once-a-year dispensation, the wider business of gambling is driving a wedge between the RSL in New South Wales and the clubs operating under its name.
State president Don Rowe says many of the clubs have become "gambling palaces" that do little for veterans and their families despite the tens of millions of dollars a year they net through pokies.
He believes they have so damaged the RSL brand that the organisation should sever its links with the clubs and even consider changing its name.
The clubs reject the claim, maintaining that they contribute heavily to veterans.
"I'd strongly dispute the fact that they don't support the Anzac traditions and the veterans at the local club," RSL and Services Clubs Association chief executive Graeme Carroll told ABC radio.
The clubs began in the 1950s as social centres for returned diggers, but allowed the wider public entry within two decades and are now entrenched as large and profitable businesses.
Veterans account for less than 5 per cent of RSL club membership in NSW.
But the clubs' pokies are big business, each machine generating an average of more than A$40,000 ($48,500) across the state and contributing heavily to the state's annual gambling revenue of almost A$2 billion.
RSL clubs account for about 40 per cent of the state's registered clubs.
Rowe says the time has come to divorce the RSL from clubs that exploit the Anzac tradition.
"A lot of the clubs have gone completely away from the ideals and the aims of what they were founded for 50 or 60 years ago by the RSL branches," he told ABC radio.
The Dee Why club last year raised A$35 million of its total revenue of A$48 million from pokies.