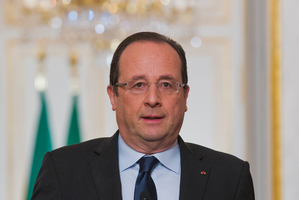 A car bomb hit the France embassy in Libya, wounding two French guards and causing extensive damage in the first attack on a foreign mission since militants stormed the US consulate in Benghazi in September.
The Libyan foreign minister called the attack in Tripoli a "terrorist'' incident.
The wall surrounding the property was destroyed and the embassy building extensively damaged. Two cars parked near the embassy were also destroyed.
The explosion occurred around 7am local time, residents said.
President Francois Hollande said the bombing targets not only France but "all countries in the international community engaged fighting terrorism.''
In a statement, Hollande said "France expects the Libyan authorities to shed the fullest light on this unacceptable act, so that the perpetrators are identified and brought to justice.''
Hollande says that a foreign ministry representative will be sent to Tripoli to take "necessary measures'' and to ensure the repatriation to French soil of the two French guards who were injured, to whom he addressed a message of solidarity.
A French source confirmed an attack against the embassy and said one guard was seriously wounded and another lightly hurt.
The mission is located in a two-storey villa in the upmarket Gargaresh area.
France condemned the "odious'' attack.
"In liaison with the Libyan authorities, the services of the state will do everything to establish the circumstances of this odious act and rapidly identify the perpetrators,'' Foreign Minister Laurent Fabius said in a statement.
The impact of the explosion also severely damaged two villas near the embassy, while windows of a shop 200 metres away were blown out.
The street in front of the mission was flooded with water, apparently from a pipe ripped by the blast.
Libyan Foreign Minister Mohammed Abdel Aziz condemned the bombing as a "terrorist act,'' but decline to speculate on who carried it out or what the motive was.

- AFP and AP