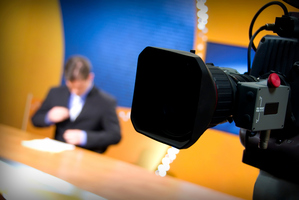 For about an hour yesterday, people could flip through different television channels and hear completely different accounts of the investigation into the Boston Marathon explosions: Some news organisations reported the arrest of a suspect and then took those claims back.
CNN and the Fox News Channel reported that a suspect had been arrested. The Associated Press and the Boston Globe said a suspect had been taken into custody. Within an hour, the FBI denied that a suspect had been captured, leading the three news organisations that had reported the arrest to back down from those claims.
AP, while reporting the federal denial, said its original source was standing by its claim that a suspect had been taken into custody. The news co-operative said its source was a law enforcement official. Later, with no evidence that anyone was in custody, the original source was unable to further explain what was going on.
ABC, CBS and NBC all broke into their regular programming to report progress in the case, but did not say there was an arrest or someone brought into custody.
The frantic afternoon presented another example of news organisations being embarrassed by a race to report information under intense competitive pressure.
It was reminiscent of the day last year that the Supreme Court handed down its decision on President Barack Obama's healthcare plan, when both CNN and Fox initially got the ruling wrong in their haste to report it.
During his initial reporting, CNN's John King had said law enforcement officials had told him that a "dark-skinned male" had been spotted leaving the package believed to be a bomb. King said he was reluctant to give that description, which can inflame racial sensitivities. An hour later CBS News contradicted him, tweeting that authorities are seeking a "white male" bombing suspect.
Amid the confusion, the Columbia Journalism Review offered a one-word tweet: "Sigh."
- AP