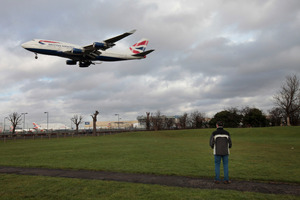 British police have identified the man who was found dead on a London street after falling from a plane last September as 30-year-old Mozambican Jose Matada.
Detectives originally thought the man was Angolan due to currency found on his person, but a SIM card found in his jeans later revealed his true identity and nationality.
The body of the suspected stowaway was discovered on Portman Avenue in the suburb of Mortlake, west London, on September 9 last year and a post-mortem examination gave the cause of death as multiple injuries.
Police believe the man fell from the undercarriage of an incoming flight to London's Heathrow airport and are liaising with authorities in Mozambique to find his next of kin.
The road where his body was found is about 15 kilometres east of the airport and directly under the main flightpath for incoming aircraft.
The discovery came after another suspected stowaway was found dead in the landing gear bay of a British Airways flight that landed at Heathrow from Cape Town on August 23.
-AFP