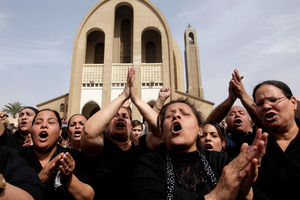 The Egyptian military's crackdown on Coptic Christian protesters 18 months ago was one of the most chilling attacks on the country's Christian minority in recent years.
As protesters marched against the burning of a church, the army rammed the demonstrators with an armoured car and opened fire into the crowds. State television whipped up anti-Christian sentiment, calling on "honest Egyptians" to help quell the Christian "mobs".
A total of 29 people, mostly Copts, were killed in the incident.
Attacks in the past couple of years, such as the January 2011 bombing of a Coptic church in Alexandria that left 23 dead, have stoked fears of growing sectarian strife.
Muslim President Mohammed Morsi has promised to protect Copts, but many fear the real danger could come if the Muslim Brotherhood, which has seen its popularity recede in recent months, feels directly threatened by widespread unrest, triggered by anger at the worsening economic situation. Many will worry that if it casts about for someone to blame, the finger might fall on the country's already persecuted Copts.
- Independent