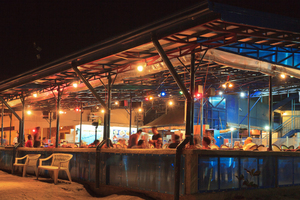 An Australian man has been shot dead at a beach resort in the Philippines.
Paul Dean Davy, 53, was shot in the back of the head while talking to another Australian man at the Blue Rock Beach Resort restaurant in Olongapo, north of Manila.
Davy, from Brisbane, was general manager of the resort.
Fairfax yesterday quoted senior officer Tyrone Tecson, of Olongapo police, as saying a witness had told of Davy talking to another Australian man when he was approached from behind.
"When we arrived, still there were lots of customers," Tecson was quoted as saying. He indicated that Davy knew his attacker.
It is understood the restaurant was full of holiday-makers and families at the time.
Davy was rushed to hospital but later died.
Police are describing the shooter as a Filipino man aged 30 to 35 wearing a blue cap and clear prescription glasses.
An Australian Department of Foreign Affairs and Trade spokeswoman has confirmed "the death of a 53-year-old man in the Philippines".
- AAP