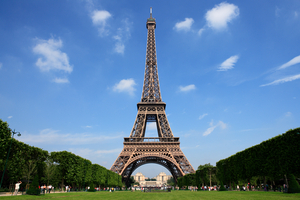 The Eiffel Tower has been re-opened after police searches failed to find any suspicious objects following an evacuation earlier today.
An anonymous phone call earlier announced a pending attack on the iconic monument, a police source says.
About 1,400 people were evacuated and a security perimeter was set up around the monument on Saturday night, the source said.
Police searched the monument with sniffer dogs for possible explosives.
French authorities have stepped up counterterrorism measures in recent weeks amid heightened concern about threats to France over its military campaign against al Qaeda-linked fighters in Mali which began more than two months ago.
The tower was evacuated because of such warnings at least once last year and twice in 2011.
The 324-metre tower is one of the world's top tourist attractions, with millions of visitors a year.
PARIS NATURAL HISTORY MUSEUM TARGETED
A man has broken into the Paris natural history museum and used a chainsaw to hack off the tusk of an elephant that belonged to King Louis XIV of France.
Police arrested the man in a nearby street as he was making his escape and recovered the three-kilogram tusk, museum workers said.
The elephant - whose skeleton is preserved in the popular museum - was given as a gift in 1668 by the king of Portugal to Louis XIV, who was also known as the Sun King.
The animal's tusks are not the original ones but were added to the skeleton in the 19th century.
Police made no immediate comment about why the man tried to steal the tusk but the incident comes amid a series of thefts in recent years of ivory from European museums and zoos.
The international trade in elephant ivory, with rare exceptions, has been outlawed since 1989 after elephant populations in Africa dropped from millions in the mid-20th century to some 600,000 by the end of the 1980s.
Yet poachers continue to slaughter elephants to lay their hands on their precious ivory and the illegal trade in the white gold continues to boom.
- AFP, AP