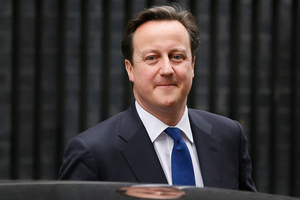 Prime Minister David Cameron has announced a fresh clampdown on immigration to Britain, with plans to restrict migrants' rights to unemployment, health and housing benefits.
Cameron acknowledged the contribution made by generations of hard-working immigrants, but warned that Britain had, for too long, been regarded as a "soft touch".
Under the plans, migrants will have their unemployment benefits stopped after six months if they have no prospect of finding work and non-Europeans may face charges for healthcare.
The Prime Minister warned that entitlement to public services was "something migrants earn, not an automatic right", adding: "We want people who are interested in what they can offer to Britain."
The speech marks the next step in a drive by Cameron's Conservative-led coalition Government to bring net migration down from hundreds of thousands to tens of thousands of people a year.
It is also widely seen as an attempt to fend off a rising challenge from the anti-immigration UK Independence Party, which pushed the Conservatives into third place in a recent byelection.
The issue of immigration has shot up the political agenda as Britain braces for a fresh influx of eastern Europeans, after the European Union lifts work restrictions on Bulgarians and Romanians in 2014.
Migrants from the European Economic Area - European Union countries, plus Iceland, Liechtenstein and Norway - are entitled to £71 ($129) a week in unemployment benefits while they look for work.
Cameron said the message this sent was "all wrong", insisting there must be an end to the "something-for-nothing culture".
-AFP