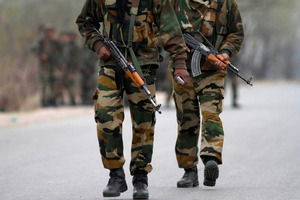 Australia's Foreign Minister Bob Carr has confirmed and welcomed the release of Australian Warren Rodwell who was held hostage for nearly 15 months by Islamic militants in the Philippines.
Mr Rodwell was abducted from his home in the southern Philippines by armed members of the al-Qaeda-linked group Abu Sayyaf on December 5, 2011.
Senator Carr today confirmed he was released from captivity on the island of Mindanao overnight.
"This is great news for Mr Rodwell and his family," he said.
"I'm advised Mr Rodwell is now in the company of Philippines authorities, our Deputy Ambassador Andrew Burn and a representative of the Australian Defence Force and will be moved to a safe location."
Senator Carr said the Rodwell family had shown "enormous courage" throughout the ordeal.
"All Australians would wish them well as Mr Rodwell recovers from his 15 months in captivity," he said.
Senator Carr congratulated the Philippines government, particularly the National Police Anti-Kidnapping Group, for their professionalism and dedication in securing Mr Rodwell's release.
"The Philippines government had the lead role in this case and deserve congratulations for their tireless efforts on Mr Rodwell's behalf," he said.
Mr Rodwell's release was also a credit to Australian officials in Manila and Canberra, including from DFAT, the Australian Federal Police and Defence, Senator Carr said.
"The focus now is on Mr Rodwell's speedy recovery."
A photo and short video from a journalist on the scene on Saturday morning showed a gaunt but smiling Warren Rodwell, aged in his fifties, sitting alongside two policemen in the town of Pagadian, news agency AFP reported.
Pagadian is about 100km east of Ipil, the southern Philippine town where Rodwell had been living with his Filipina wife before he was kidnapped.
The kidnappers had released at least four video clips of the Australian as proof that he was in their custody.
In one of the videos, Rodwell said his captors were demanding US$2 million in ransom.
- AFP