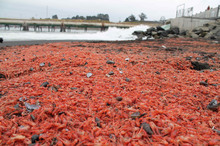 Endesa Chile is denying any wrongdoing in the death of thousands of shrimp that washed ashore in southern Chile.
Local fishermen have blamed the country's leading electricity generator for the die-off that left a carpet of red prawns on a beach in Coronel, about 530 kilometres south of the capital on Wednesday (local time).
Endesa Chile Project Manager Marcelo said today that company studies indicate the die-off "is due to the flow of deep waters coming from the continental platform, induced by currents of wind on the ocean."
He says Endesa plans to cooperate with the official investigation
- AP