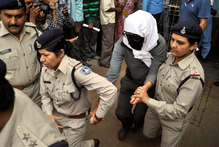 Police in central India say they have detained 20 men after a Swiss woman on a cycling trip was gang-raped.
Police officer D.K. Arya said last night that no arrests had been made so far but police were questioning the men in connection with the rape and assault on the woman and her husband in Madhya Pradesh state.
Police have registered a case of rape against seven unidentified men and were searching nearby villages.
The Swiss ambassador in India has spoken to the couple and has demanded a swift investigation.
The attack comes three months after the fatal gang-rape of a woman aboard a New Delhi bus outraged Indians and spurred the Government to pass laws to protect women.
The latest attack occurred on Saturday as the couple, who were on a three-month holiday, camped out in a forest after bicycling from the temple town of Orchha, local police officer R.K. Gurjar said.
They were planning to cycle to Agra to visit the Taj Mahal, the monument to love, nearly 210km away.
A group of men armed with wooden sticks beat up the husband, tied him to a tree and then raped the woman, he said.
They also stole the couple's mobile phone, a laptop computer and 10,000 rupees ($220).
The woman, 39, was treated at a hospital in the nearby city of Gwalior, Gurjar said.
A photo showed the woman walking while being escorted by police to the hospital. Her face was concealed with a hood, a common practice in India, where law does not allow rape victims to be identified publicly.
Swiss Foreign Ministry spokesman Tilman Renz described the case as "deeply disturbing" and said Swiss diplomats were assisting the couple.
Swiss diplomats called on Indian authorities "to do everything to quickly find the perpetrators so that they can be held accountable".
Last month, the Swiss Government issued a travel notice for India that included a warning about "increasing numbers of rapes and other sexual offences" in the nation.
India has seen outrage and widespread protests against attacks on women since December's fatal gang-rape of a young woman and attack on her companion on a bus in New Delhi.
The crime horrified Indians and set off nationwide protests about India's treatment of women. It also spurred the Government to hurry through a new package of laws to protect the country's women.
One of six suspects in the December attack was found dead in a New Delhi jail last week. Authorities said he hanged himself, but his family and lawyer insisted foul play was involved. A magistrate is investigating.
-AP