Michigan Governor appoints bankruptcy expert to control purse strings of once-prosperous city.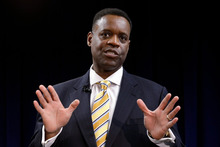 A bankruptcy expert who represented carmaker Chrysler during its successful restructuring has been chosen to steer Detroit out of its financial abyss.
The distressed city, once one of the nation's most prosperous manufacturing centres, is now the largest United States city to have its finances placed under state control.
Governor Rick Snyder announced yesterday that he had chosen Kevyn Orr, a partner in the Cleveland-based law firm of Jones Day, to be Detroit's emergency manager, a position that gives him broad powers to control all spending. The move makes Detroit the largest city in the US to have its finances placed under state control.
Detroit, which at one time was the symbol of American progress and held great political power thanks to the vehicle industry, has lost a quarter-million people during the past decade and remains saddled with a US$327 million ($398 million) budget deficit and more than US$14 billion in long-term debt. It has been making ends meet on a month-to-month basis with the help of bond money held in a state escrow account. The city also has instituted mandatory unpaid days off for many city workers.
"We can rise from the ashes," Orr said. "This is a beautiful city and a wonderful state that gave me my start.
I feel compelled to do this job."
Orr's selection was formally approved later by Michigan's Emergency Loan Board.
The emergency manager will have wide-ranging authority to mend the city's budget, including renegotiating labour contracts, selling off assets and even suspending elected officials' salaries.
A state-appointed review team previously determined that because of Detroit's cash deficit, the city would have had to either increase revenues or decrease expenditures - or both - by about US$15 million per month for three months starting in January to "remain financially viable". Those troubles, along with underfunded city services such as police and fire departments and the absence of legitimate turnaround plans from Mayor Dave Bing and the city council, ultimately forced Snyder to appoint an emergency manager.
Orr's hiring also is the latest in a string of embarrassing setbacks to befall Detroit in recent years.
Explicit text messages made public in 2008 revealed the tawdry affairs and other shenanigans by the city's then-mayor Kwame Kilpatrick, leading to criminal charges and eventually prison time for him. On Tuesday, Kilpatrick also was convicted on 24 federal corruption charges, capping a five-month trial that exposed a brazen pay-to-play culture during his mayoral tenure and characterised the son of former US Congresswoman Carolyn Cheeks Kilpatrick as an unscrupulous politician who took kickbacks, rigged contracts and lived far beyond his means.
- AP
By Corey Williams