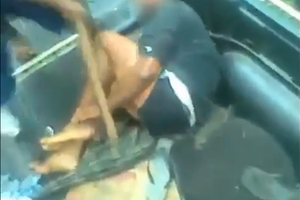 Three prison guards in Fiji have been sacked over a video of detainees being beaten and tortured.
Labour Party foreign affairs spokesman Phil Goff moved a motion in Parliament yesterday condemning the incident, which Prime Minister John Key has called "alarming".
Fiji Prisons and Corrections Service spokeswoman Ana Tudrau Tamani confirmed that three prison officers have been sacked as a result of the incident, AAP reported.
She declined to provide further details, saying a police investigation into the video was still under way.
The brutal, nine-minute-long video posted online last week shows one man handcuffed in the back of a ute being beaten with rods, while another man is on the ground being tugged at by a dog.
The men who were beaten were initially thought to have escaped from prison last year.
Fiji police ruled this out, but did not confirm the identities of the men.
Mr Goff said the video recording brought to light a pattern of behaviour by Fiji security forces towards detainees which Amnesty International and Fiji nations had said was commonplace.
"When security forces put themselves above the law it puts all citizens at risk. This includes those who express opposition to the actions of the military government in suppressing other human rights such as freedom of speech, a free press and the right to elect and change a government.
"New Zealanders want to see Fiji re-join the Pacific community of nations as a country that practices democracy and respects the rights of its own people."
- APNZ