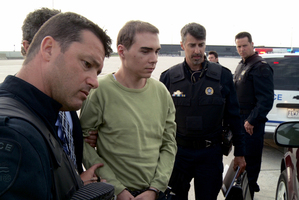 "Canadian Psycho" and charged with the grisly murder and dismembering of a Chinese man appeared in court Monday for a hearing on whether a trial can proceed.
Luka Rocco Magnotta, 30, made worldwide headlines last year after allegedly filming himself murdering his victim in May 2012 and performing lewd acts with the student's body before posting the images online.
Magnotta, dressed in a white t-shirt and pants, arrived escorted by prison guards for the start of the preliminary hearing in Montreal. He sat quietly in the prisoner's box with his hands resting on his knees during the proceedings.
He faces first degree murder and other charges, including committing indignities to a body and harassing Canadian Prime Minister Stephen Harper.
Police say the occasional gay porn actor and male prostitute used an ice pick to stab his 33-year-old victim Lin Jun before carving up his body, sexually abusing the corpse, filming the act and posting the video online.
Days after the killing, police discovered the victim's torso in a suitcase by the trash outside an apartment along a busy highway in Montreal.
His severed hands and feet were sent through the mail to federal political parties in Ottawa and to two schools in Vancouver. The head was found in a Montreal park months later.
Lin's family, who travelled to Canada from China last year following their son's horrific death, have returned to watch the court case of a man they have branded "a devil.''
When police finally tracked Magnotta down in an Internet cafe in Berlin, he said: "You got me!''
After being sent back to Canada, Magnotta pleaded not guilty.
Legal experts suggested he may be trying to prolong his moment in the public eye by insisting on a trial.
Magnotta's lawyers Luc Leclair and Pierre Panaccio may also argue against jailing him, claiming he has a history of mental illness for which he is now taking medication.
If convicted, Magnotta faces life imprisonment.
The defense on Monday asked Judge Lori-Renee Weitzman to bar the public from the preliminary hearing, which was expected to last at least 10 days.
It is rare for a preliminary hearing to be held behind closed doors, and prosecutors as well as lawyers for local media opposed the motion.
Born Eric Clinton Newman, he changed his name to Magnotta in 2006, after years of using aliases such as Vladimir Romanov, or Angel.
The media, however, dubbed him the "Canadian Psycho'' because the soundtrack from the movie American Psycho was playing in the background of the video of the alleged murder that was posted online.
For years Magnotta built a profile through blogs and escort adverts in which he searched online for sex partners and posted photographs showing himself as a trim, pouty-lipped model whose travels included Paris and other cities.
In his writings, Magnotta described being beaten and sexually abused while growing up in a Toronto suburb, as well as being a heavy drinker, drug-addicted and manic-depressive.
At the same time, profiles he reputedly posted on online dating websites conveyed an altogether different persona _ on one site he listed beach volleyball as a hobby and said he was looking for a long-term relationship.
-AFP